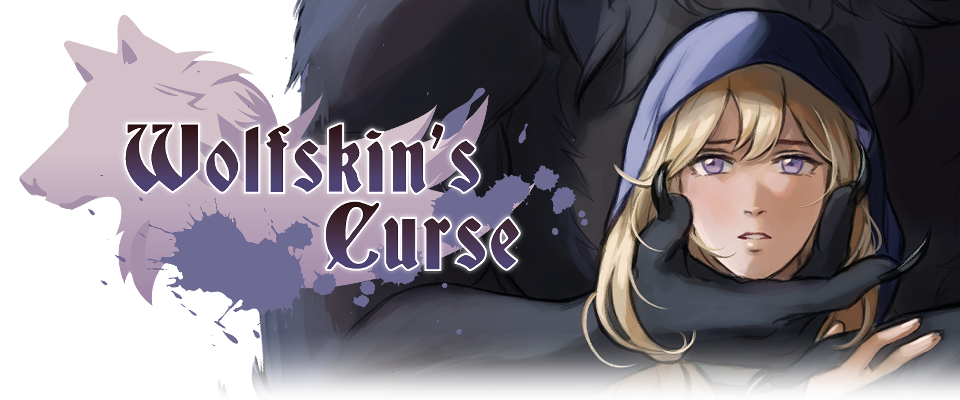 Wolfskin's Curse
Hello, Tama here!
This is just a general update to say thank you for the support this project has received. From the results of Spooktober 2021 VN Game Jam, we've achieved:
Best Logline:
"A forsaken nun must prove a monster's innocence. He is offered no voice, but she will lend hers."
A nearly perfect logline from this year's submissions. Direct, short, and mysterious. Well done!
and an unofficial (?) runner up to Best Thumbnail, which went to DUFE: Masquerade. Congratulations to Galen Games!
" Wolfskin's Curse a very close runner up, probably the hardest decision for the secondary categories."
For overall ratings, we came 13th, a fittingly spooky number for the Halloween season!
Alternatives to Postmortems
A Postmortem usually examines what went right and what went wrong, though I don't have much interest in writing reflections. All in all, despite setbacks, I am satisfied with what was achieved in a month's time, and I can let both the successes and grievances rest.
With Winter Jam on its way, I thought I might share some things that helped in terms of creating visual novels and some things to take away as a creative director. I have now worked solo (with only proofreading and feedback from friends), in a small team of three, and in a large team.
Hopefully, this advice will be useful to those seeking out some help in organizing and planning for visual novel development! I may not be the best director but I have learned some things that saved a lot of heartbreak over the course of the month.
The topics I'm hoping to cover are:
Organizing art, story and timeline
Using Github to collaborate
Collaboration with musicians
Organizing voice acting
Optimizing the game's release
I will be writing these topics as much as time will be permitting, though I may publish this on either Notion or Google Docs if the guides get rather wordy. These days, I prefer Notion as it is slightly more intuitive to my needs.
That's all from me. Thank you for taking the time to read this!
Art Corner
I plan on doing some sketch fanart for some other entries of Spooktober as well. This is the first, for Hush Little Lily!
Orlon and ChaniMK are both excellent people who made a stunning entry into Spooktober. I also have another collaboration lined up with RunnerGuitar, musician and composer of some of the core themes for Wolfskin's Curse! Look forward to it!
You can usually see art updates on my twitter.
For more (fan)works, Gaming Variety Potato kindly compiled some of them here!